Skip to Content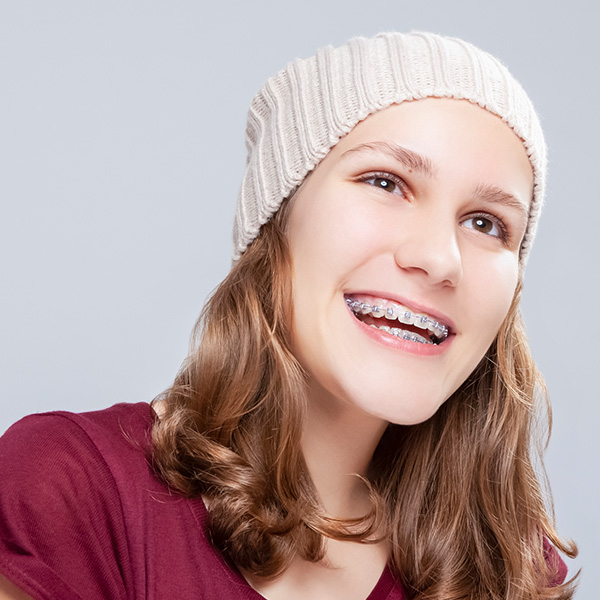 Teenager Orthodontics
For many teens, braces are a rite of passage. They're one more example of the changes adolescents go through at this time — along with growth in stature, edgier tastes in clothes and music, and an increasing degree of self-awareness. So why is teenager orthodontic treatment a good idea? In short, it is a major investment for the rest of their life. Orthodontic problems don't improve with age — they simply become harder to treat. It's easier to treat many orthodontic problems during adolescence because the body is still growing rapidly. Whether we use standard braces or appliances like palatal expanders, we can create an improved appearance and function in a short period of time. Many conditions become more difficult to treat when the bones of the face and jaw are fully developed. While the body is still growing and changing, we can adapt the teeth and the bite to fit together in their best position. There's even a social element to getting orthodontic treatment in the teenage years. If you need braces, you're not alone! Chances are you'll see some of your classmates in our office. You may even make new friends as you go through the process together.
Adult Orthodontics
Braces aren't just for kids anymore. Welcome to the world of adult orthodontics! Tooth alignment can be changed at any age if your gums and bone structure are healthy. We offer a variety of treatments that are designed for different age groups – including adults. Your new smile can begin today.
Adult orthodontic treatment can dramatically improve your personal appearance and self-esteem. Improving the health of your teeth and gums is equally important. Crooked teeth and a bad bite can contribute to gum and bone loss, tooth decay, abnormal wear of the tooth enamel and surfaces, headaches, and jaw joint (TMJ/TMD) pain.
Good news! The new techniques and appliances we use greatly reduce discomfort levels, decrease the frequency of visits, shorten treatment time, and may allow you to choose from several options. Your options may include metal braces, clear braces, or clear Invisalign aligners that can be worn to improve your teeth and smile.
During the initial examination, we will be able to determine the best possible treatment for your individual needs. During this examination, we can outline the treatment plan, time of treatment expected, and the approximate cost. A large percentage of our patients are adults, and they agree that it's never too late to improve their greatest asset – their smile.
Complimentary Orthodontic Consultation
Call us directly at 843-951-9503 or fill out the form below and we will contact you. Thank you.
Consultations at Acuity Dentistry & Orthodontics are always completely complimentary. During your consultation, we will take photos of your teeth and bite, and any X-rays needed, and our doctor will explain how we can improve your smile.
Full Service Dental and Orthodontic Office in North Charleston SC